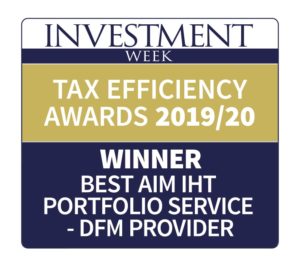 Hawksmoor's AIM Portfolio Service enables your clients to invest in growth opportunities among the UK smaller companies listed on the London Stock Exchange's Alternative Investment Market (AIM), as well as to reduce their potential inheritance tax (IHT) liability.
Our AIM Portfolio Service was recognised as the 'Best AIM IHT

Portfolio Service – DFM Provider' at the Investment Week Tax Efficiency Awards 2019/20, and has been named as the winner in the 'Best AIM Portfolio Service' category at the 2022 Growth Investor Awards.
You can read the independent report of our AIM Portfolio Service from MI Capital Research (MICAP) below:

Your clients can access our AIM Portfolio Service with a minimum investment of £30,000*.
*Until 1st May 2024 we're lowering our minimum investment into our multi-award-winning AIM Portfolio Service to £20,000 for all new ISA applications.
An IHT liability of 40% on a portion of a client's estate can have a large impact on their plans to pass wealth on to future generations. An AIM Portfolio can be a convenient way in which to reduce that tax. Current rules grant exemption from IHT to certain qualifying investments in companies on the AIM Market, once held for 2 years.
Our AIM Portfolio Service can be run within an ISA for greater tax efficiency. As a result, your client's holdings will be exempt from further income tax on dividends and any capital gains tax on disposals.
Your clients will receive a quarterly report containing a formal valuation of their portfolio, performance statistics, market commentary and other relevant information.
An AIM Portfolio is a higher risk, long-term investment and is not suitable for everyone. The following is an overview of the principal risks.
Smaller companies are above-average risk investments. The value of investments and any income derived from them may fall as well as rise, and your clients may not get back the full amount invested.
AIM companies can be relatively illiquid, meaning it can be difficult to dispose of shares at a reasonable price at short notice.
Your clients should expect that their portfolio will demonstrate volatility greater than the UK market average. Movements in the value of a portfolio may not reflect changes in the overall equity market.
Tax rules, including inheritance tax nil rate bands and the eligibility of AIM shares for Business Relief, may change. Hawksmoor cannot guarantee that investments will qualify for tax relief; HMRC decides eligibility on a case-by-case basis.
There is more information about our AIM Portfolio Service in the Useful Downloads section, or you can get in touch with our friendly team using the contact details at the bottom of the page.