Launched in September 2018, in response to demand from existing investors in our Vanbrugh and Distribution Funds, the Global Opportunities Fund applies the same award-winning investment process but targets investors with a higher tolerance for risk. The Fund's primary aim is to deliver returns, after charges, in excess of general markets over the long term (defined as rolling periods of 5+ years).
In order to achieve this, we invest in a variety of financial assets, using collectives to invest in long-term structural growth themes, together with exploiting inefficiencies in the closed-ended sector – primarily investment trusts trading at discounts. The portfolio is fully invested and whilst diversified, it has a minimum exposure to equities of 60%.
The Fund sits in the Investment Association Flexible Investment Sector, giving us maximum flexibility over asset allocation. It is likely that your clients will see fluctuations in the value of their investment over the short term, so they need to share our long-term perspective in order to increase the likelihood of superior long-term total returns.
For an up-to-date price of the Global Opportunities Fund, click this link to our administration provider Maitland.
Fund performance since launch: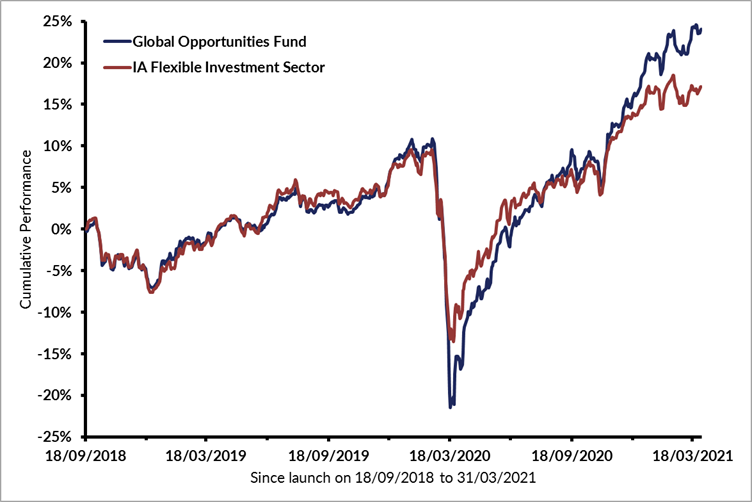 Source: FE Analytics. GBP total return, C Acc units. Past performance is not a guide to future performance. The value of an investment and any income from it can fall as well as rise. You may not get back the amount you originally invested.