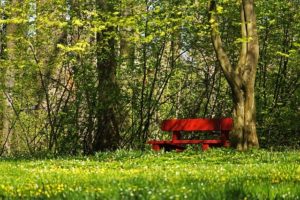 The merry merry month of April is almost gone. The S&P 500 Index is at a record high, bond yields are flatter than a pint of Doom Bar, the US economy is back on a clip, inflation has packed its trunks and gone on holiday. What is more, a chap dressed as Big Ben has made national headlines. It feels almost normal.
As we head towards May and the next sunny Bank Holiday, we have a humdinging week to get through. As is usual for the start of the month, we shall have US data coming out of our ears, ending with the non-farm payrolls on Friday. In the meantime, we have to get over a meeting of the Federal Open Markets Committee and the UK protest vote in the Local Elections.
As far as the markets are concerned, Goldilocks is here to stay. Again. Forget the last quarter of last year, we are back on the yellow brick road. Growth and inflation are both Baby Bear's porridge and we have, allegedly, precious little to worry about.
None of this should come as any surprise to anyone, so my apologies for going over familiar territory. The problem is that it creates problems. This might seem like a statement of the most obvious thing that you have ever read, but bear with me: markets will keep doing what they are doing until they stop. And then they will do the opposite. Until they stop. And then we shall start the process all over again.
At the moment, there is no denying that the investment environment is rosier than a barbeque at David Austin's. Just as in December it was as wobbly as a Sainsbury blancmange. It will not even need a change of data until we all go back to being Mr and Mrs Jellyknees again, just a change of mood.
The same economic news that has so reassured investors can (will) become equally troublesome. It is only a matter of time until higher American growth, better global trade and a resolution of you-know-what all become potential sources of inflation and cold pricklies, rather than warm fuzzies.
The next logical question is what does any of this mean for managing money? There is a proper answer and a frivolous one. The latter is that it is, probably, a classic year to 'sell-in-May'. The serious one is that one should prune what one does not like when prices have gone up, and buy more of what one does when prices are falling. It sounds simple enough, but it is an eternal challenge of investment management to consign the flavour of the month to the spittoon.
Greta Thunberg has been and gone. Politicians have had their photos taken (or not, in the case of Mrs May), patted her on the head and ignored everything she had to say. The biggest wak-wak-oops goes to Claire Perry, who told Miss Thunberg to go back to school, be a jolly good scientist and help to solve all the problems. That, regrettably, is a complete misunderstanding (or deliberate ignoring) of the climate change message. Which is that lots of very clever people have already said what needs to be done; it is just that it is all far too inconvenient in the short-term for anyone to do very much except say that they care about baby polar bears, but it will be ok because London has some buses that use hydrogen.
Here we need to touch on demographics and psephology. Most of all, those who have played hooky to carry banners about the climate will reach voting age over the next five years. Over the same half decade, a number of those apparently less bothered by the weather will have moved off the other end of the scale. One cannot hold back the tide.
The Bank of England needs a new Governor. One should have a certain sympathy for Dr Carney, who never signed up to managing monetary policy over you-know-what. He has, I think, succeeded in the primary task of a central banker in not mucking it all up. Or at least not that anyone has spotted so far. The same cannot be said of others, who seem still to ignore the reality that they oversaw the greatest financial disaster of our lifetimes (so far).
And so we come back to Goldilocks. I have previously described her as the most dangerous person in finance. She lies, you can see it in her eyes (ref. Steely Dan). She beguilingly creates illusion, arrogance and greed. We need the bumps in the road, and one is due.
Van the Man was a safe bet last week, with possibly a record number knowing the first lines of Brown Eyed Girl. Today, a different decade: what titular question was prompted by the opening observation "pretty women out walking with gorillas down my street"?
Chart of the Week:
Sainsbury, past 5 years. Not really in the money.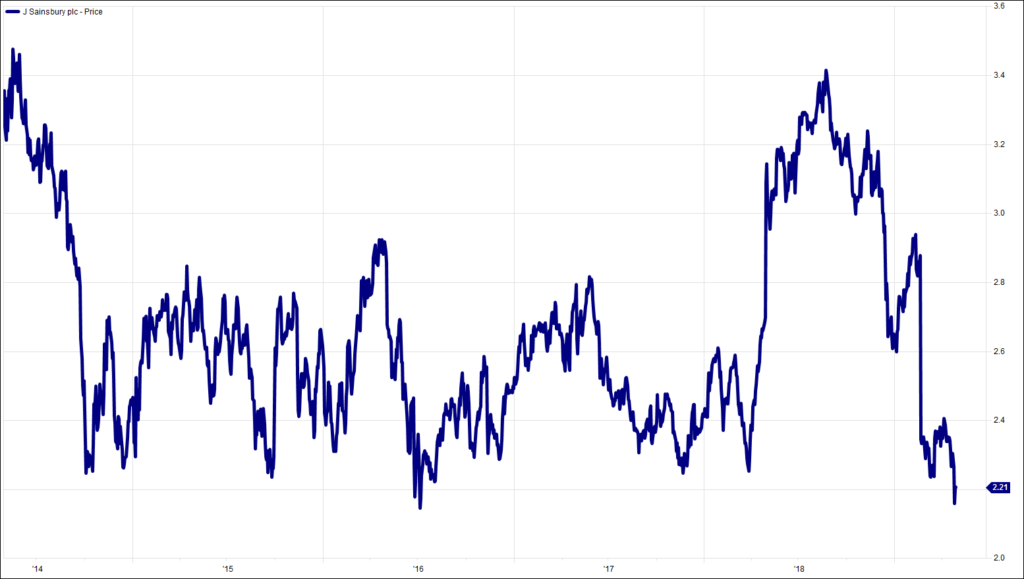 HA804/210
All charts and data sourced from FactSet
Jim Wood-Smith – CIO Private Clients & Head of Research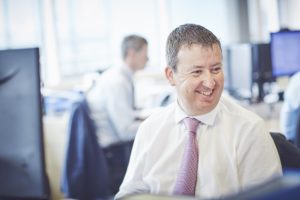 Hawksmoor Investment Management Limited is authorised & regulated by the Financial Conduct Authority (www.fca.org.uk). This document is issued by Hawksmoor Investment Management Limited ("Hawksmoor") whose registered office is at 2nd Floor Stratus House, Emperor Way, Exeter Business Park, Exeter, Devon EX1 3QS. This document does not constitute an offer or invitation to any person in respect of any investments described, nor should its content be interpreted as investment or tax advice for which, if you are an individual, you should consult your independent financial adviser and or accountant. The information and opinions it contains have been compiled or arrived at from sources believed to be reliable at the time and are given in good faith, but no representation is made as to their accuracy, completeness or correctness. Hawksmoor, its directors, officers, employees and their associates may have a holding in any investments described. The editorial content is the personal opinion of Jim Wood-Smith, Head of Research. Other opinions expressed in this document, whether in general or both on the performance of individual securities and in a wider economic context, represent the views of Hawksmoor at the time of preparation and may be subject to change. The value of an investment and any income from it can fall as well as rise as a result of market and currency fluctuations. You may not get back the amount you originally invested. With regard to any of the Hawksmoor's managed Funds, please read the prospectus and Key Investor Information Document ("KIID") before making an investment.