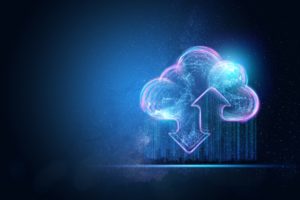 According to The World Economic Forum we are on the brink of Industry 4.0, a 'Fourth Industrial Revolution' that will fundamentally alter the way we live, work, and communicate with one another. Found at the heart of this transformation, cloud technology has a unique position as an enabler for other technologies to flourish.
Cloud computing
Cloud computing is simply the delivery of computing services via the internet. For example, cloud storage services give users password-protected access to online storage space, meaning data in the form of photos, messages, and documents can be stored here. Apple fans will be familiar with iCloud. There are three types of cloud: public, private and hybrid. The most popular of which are public clouds, which are owned and operated by third-party cloud service providers. Spotify, a popular music and podcast streaming application, uses a public cloud that is managed by Google. On the other hand, a private cloud can be located on a company or organisation's data centre for exclusive use by themselves. Hybrid clouds combine both public and private clouds with technology that allows data and applications to be shared between the two.
IaaS, PaaS, and SaaS
Cloud service providers offer three levels of cloud technology, sometimes referred to as the cloud computing stack (see diagram 1) as each level builds upon the last.
Infrastructure as a Service (IaaS) is essentially a rental service of IT resources from a cloud. Clients will receive instant computing infrastructure that is managed over the internet by a third-party cloud service provider, avoiding the expense and complexity of buying and managing a physical data centre. Infrastructure use can be scaled up and down with demand, letting clients pay only for what they use, a function that is essential for businesses to respond more quickly in rapidly changing business environments.
Platform as a Service (PaaS) not only offers IT infrastructure but also a cloud ecosystem for developing, testing, delivering and managing software applications. Middleware, business intelligence services and database management systems are all examples of what is included within a PaaS offering. Clients can use platform resources on a pay-as-you-go basis to deliver cloud-based applications much more easily and efficiently.
Software as a Service (SaaS) is a method of delivering software applications over the internet. This essentially means that organisations can rent the use of an app which its users can then connect to using their own device, without the hassle of hosting and managing the app. An end-user friendly application is available on the spot for organisations to subscribe to.
SaaS is currently the largest market segment in terms of revenue, though is still expected to grow by c.16% p.a. This growth is partly due to the scalability of the subscription-based model used, which is also attractive for companies offering SaaS as it gives greater visibility over revenues and generally means long-term contracts are signed by clients. IaaS is the second largest and also the fastest growing segment, expected to grow 24% this year. The demand for modern applications is continually increasing and it is becoming harder for traditional data centres to meet these needs, creating a perfect environment for cloud infrastructure providers to grow.
Diagram 1: Cloud computing stack
Source: Hawksmoor Research

Clouds everywhere
Cloud computing has grown significantly in the last decade to a stage where the majority of people in developed economies use the cloud every day, whether we realize it or not. Simple day-to-day activities, such as online banking, email, social media and online shopping have become much more accessible. Users simply log on from their device and instantly have the ability to perform tasks. This is cloud technology in action.
Take Outlook, Microsoft's webmail application, as an example. Outlook fits into the SaaS camp, it's a software application that is managed entirely by Microsoft. Once subscribed, users can access their emails and stored messages from any web browser or device. The benefits for an organisation using this service are three fold – cost efficient, accessible and scalable – it receives access to sophisticated applications for all employees, paying only for what it uses.
Another example of how cloud technology can cost effectively support the growth of businesses is Netflix. In 2012, Netflix had 24 million subscribers, now it offers over 125 million hours of entertainment each day to more than 180 million members. By running its application on Amazon Web Services (AWS), Netflix has been able to scale up resources to meet increased demand whilst avoiding the need to own a data centre.
Sky high growth potential
Cloud technology is essential to the scalability of new economy ideas. The integration of smart meters and eventual development of a smart grid would utilize cloud-based technology. Even the future of cars will be shaped by the cloud, autonomous vehicles generate a myriad of data that relies on cloud computing to transfer and store it. This interconnection of devices is a growing development known as the Internet of Things, it sits side by side with the cloud as it enables computing devices embedded in everyday objects to send and receive data. It is therefore not a surprise that the cloud market is expected to account for over 70% of all technology and software spending this year.
But what does this mean in numbers? Gartner, a leading IT research and advisory company, forecasts that cloud revenues will be $350 billion by 2022 (see chart 1), an increase from $230 billion in 2019 giving a 3 year CAGR of 16%. This growth potential of the cloud market thus far has been captured predominantly by the major technology players in the US: Amazon, Microsoft and Google. The three mega-cap businesses reported a combined Q1 2020 cloud revenue of $26.3 billion. Looking specifically at Amazon, AWS represents more of the group's overall operating income than Kindle, Amazon.com, Prime Video, Amazon Music, Alexa and Whole Foods combined; now accounting for 77%.
The COVID-19 pandemic has accelerated the pace at which cloud technology has been adopted. Not only is the cloud's flexible subscription-based pricing model accommodative for businesses making the shift to remote working, but increasing pressure on cybersecurity and data protection can be mitigated through secure, reliable cloud connections.
Chart 1: Global Public Cloud Service Revenue Forecast
Source: Hawksmoor Research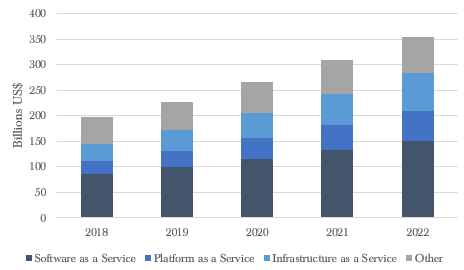 Companies are beginning to realize the importance of utilizing IT resources and cloud technology offers a one-stop shop to do so. In terms of IaaS, revenue will likely flow predominantly to the large players within the market which can offer the best pricing solutions and have the most advanced data centres. However, the growth potential and opportunities within PaaS and SaaS are ever increasing as the evolution of cloud is moving beyond simple back office tasks and towards the outsourcing of more sophisticated analytics and middle office operations.
Data centres and sustainability
Between 2010 and 2018, the quantity of data traversing the internet increased more than ten-fold, while global data centre storage capacity increased by a factor of 25. Naturally, this means data centres are not only increasing in quantity but also in size. The largest data centre in the world is located in China and occupies 6.3 million square feet of space, a size only slightly smaller than The Pentagon in the US.
Cloud data centres are generally more energy efficient than a private company's data centre as there is more incentive to reduce power usage: the less power Amazon, Microsoft or Google has to buy, the better it is for their bottom line. Hyper scale data centres tend to opt for cheap, renewable energy such as hydro and wind. In 2019, for the third year in a row, Google purchased enough renewable energy to match 100% of its annual global electricity consumption. Therefore, when a company decides to trade in its old inefficient data centre and start using Google's infrastructure instead, the knock on effect is an overall reduction in power usage of data centres as a whole, sourced from more sustainable options.
Investment
Our favoured investment pick for exposure to cloud computing is the First Trust Cloud Computing ETF. The attraction here is that stocks are classified according to three business categories, IaaS, PaaS, and SaaS; and each stock is assigned a 'Cloud Score' that is calculated by reviewing each category. Simply put, if it operates within the category it achieves the set score and if it doesn't it receives a zero. IaaS is worth 3 points, PaaS is worth 2 points, and SaaS is worth 1 point; making the maximum Cloud Score a 6. Each company's total score is divided by the total sum of the scores in the index to determine the weight of each security (capped at 4.5%), therefore favouring companies that operate across all aspects of cloud computing.
Conclusion
Cloud computing is becoming ever present in a world that is more digitally-connected and reliant on the storage and communication of data. It has transformed from once being a background operation to running companies' remote office setups. Technologies of the future are more memory-intensive and data-intensive which will require huge data centres with enormous processing power to flourish, which is exactly what cloud technology can provide.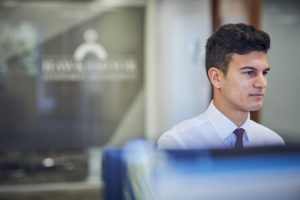 Ben Luck – Research Assistant
Health Warning/ Disclaimer
This document should not be interpreted as investment advice for which you should consult your independent financial adviser. The information and opinions it contains have been compiled or arrived at from sources believed to be reliable at the time and are given in good faith, but no representation is made as to their accuracy, completeness or correctness. Any opinion expressed, whether in general or both on the performance of individual securities and in a wider economic context, represents the views of Hawksmoor at the time of preparation. They are subject to change. Past performance is not a guide to future performance. Hawksmoor Investment Management Limited ("Hawksmoor") is authorised and regulated by the Financial Conduct Authority. Hawksmoor Investment Management Limited is registered in England No. 6307442 and its registered office is at 2nd Floor, Stratus House, Emperors Way, Exeter Business Park, Exeter EX1 3QS. HA3985
FOR PROFESSIONAL ADVISERS ONLY AND SHOULD NOT BE RELIED UPON BY RETAIL INVESTORS