It is probably obvious that I have always been a fan of hyphens. It is of necessity. Since you so kindly ask, the "Wood" bit used to be a (very odd) family given name, which a previous generation hyphenated into the surname. Nobody seems to use the expression "double barrelled" these days, possibly to duck the question of whether it was a shotgun wedding. Never mind, on Wednesday President-elect Biden loses a hyphen, or a barrel, and becomes the 46th president of the United States.
Oddly enough, this matters. The United States is still the foremost economy and military power known in the Universe. That is quite a mantle. The weekend's leaks to the media tell us that Biden intends to start with a flurry of executive orders, not only to get a grip on the virus and vaccinations, but also to rejoin COP21. It has to be important that this latter point is going to happen on day one of the presidency. So let me get this bit out of the way early this week: decarbonization is only going to get more important over the next four years and adapting to this is going to be the biggest challenge that almost every business faces, if it is not already. And I make no apologies for being a stuck record: this is not our thinking whether this is right or wrong, it is our acknowledgement that the ability to deal with decarbonization will increasingly drive returns to both share and bond holders in every business.
If that is for the longer-term, the more immediate outlook is becoming slightly fuzzier. Perversely, this is because COVID is less of an issue (for the time being). The markets have a very clear roadmap. For the countries that have them, the current lockdowns are working and infections are dropping. The pace of vaccinations will ebb and flow, but by half way through the year a decent number of us will have been jabbed. By the end of the year, economic activity will be much higher than it is now. 2022 looks altogether better, and we will all go back to the pub, Nandos and Lanzarote. Maybe not quite in the numbers that we used to, but none of us has stopped loving a drink, a bit of spicy chicken and a fortnight in the sun.
Some things will be changed forever. But good businesses will adapt to this, and thrive, as they always do. So it is entirely reasonable to think that 'office life' will become a hybrid of the home and the office. It is probably a better way of doing things, and we may well see higher productivity and staff wellbeing as a result. We will also see a structural drop in commuting and therefore a change in the businesses that support both travel and office life. That will, for example, mean that we need fewer Starbucks close by offices, but offset by the need for more at-home caffeine fixes. An economy with a happier and more productive workforce is likely to be for the better, is it not?
I digress. This morning we have China claiming that its economy grew at an annual rate of 6.5% in the fourth quarter of last year, and by 2.3% overall in 2020. If COVID was a plan to gain an ever bigger economic edge versus the rest of the world, then job done. Its competitive edge over the USA in particular will become even stronger in the first half of this year as Biden deals with the virus in a different way to his predecessor. This should act as a fillip to much of the rest of Asia and we are expecting good things of the Asian weights in our portfolios this year.
As well as Biden's first round of quick fixes, this week we will also hear Janet Yellen's views on her role at the Treasury and, crucially, on the dollar. The American currency has been steadily falling on the expectation of a surge in spending following the Democrat clean sweep. The same sources that have leaked Biden's breakneck start in the Oval Office have also let it be known that Yellen is not necessarily a supporter of a weak dollar. That sounds terribly fluffy, but it is a marked change from the previous administration and a sign that the decline in the dollar has been noticed.
Sterling has been edging upwards through the $1.30's over the past month or so. Readers will doubtless remember that $1.40 is enormously important. This acted as the support level for the pound for decades and it would be a genuine, and unexpected, turning point if it were to regain and hold the $1.40 level.
Finally we have a quick plug for next week's virtual Roadshow: Bull Markets and Cold Turkeys. We will be setting the world to rights for an hour next Tuesday morning; if you would like to join us and have not already accepted an invitation, then please do get in touch with Jill and we will make sure that you are booked in.
Well done to everyone who remembered Otis Ferry's 15 minutes of fame. Today, since the end of the War of Independence, have there been more American presidents or British prime ministers?
Jim Wood-Smith – CIO Private Clients & Head of Research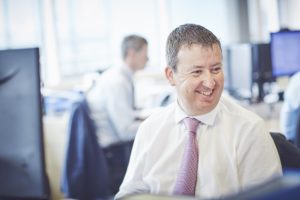 HA804/286
All charts and data sourced from FactSet
Hawksmoor Investment Management Limited is authorised and regulated by the Financial Conduct Authority (www.fca.org.uk) with its registered office at 2nd Floor Stratus House, Emperor Way, Exeter Business Park, Exeter, Devon EX1 3QS. This document does not constitute an offer or invitation to any person in respect of the securities or funds described, nor should its content be interpreted as investment or tax advice for which you should consult your independent financial adviser and or accountant. The information and opinions it contains have been compiled or arrived at from sources believed to be reliable at the time and are given in good faith, but no representation is made as to their accuracy, completeness or correctness. The editorial content is the personal opinion of Jim Wood-Smith, CIO Private Clients and Head of Research. Other opinions expressed in this document, whether in general or both on the performance of individual securities and in a wider economic context, represent the views of Hawksmoor at the time of preparation and may be subject to change. Past performance is not a guide to future performance. The value of an investment and any income from it can fall as well as rise as a result of market and currency fluctuations. You may not get back the amount you originally invested. Currency exchange rates may affect the value of investments.