Hawksmoor pledges support for Exeter Chiefs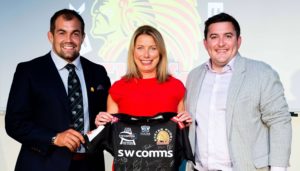 Hawksmoor Investment Management is very proud to support Premiership rugby team Exeter Chiefs for the 2019/20 season.
As Player Sponsor for prop Ben Moon, we are delighted to pledge our support for our local Premiership side, who in addition to finishing top of last season's table were also the only Premiership team to make a profit last year.
As a member of Exeter Chiefs since 2008, and one of the original players from the club's Championship days, Tiverton-born Ben has played a major part in the club's success. He made his international debut for England against South Africa in 2018, and continues to be a key player for the Chiefs as they get ready to compete in this season's Premiership and European Rugby Champions Cup.
Exeter Chiefs have always understood the importance of the club's relationship to the local community. They have a reputation for hard work and integrity that is the envy of other Premiership clubs, and their ethos of consistency coupled with the highest ambition is likely to serve them well in the future.
At a recent Player Sponsor dinner at Sandy Park, Ben presented a signed match shirt to Compliance Assistant Victoria Hawkins-Down and Investment Manager Andrew Little.
View more news