Hawksmoor Fund Managers triumphs at Investment Week Awards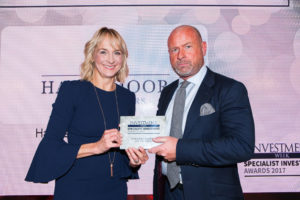 Hawksmoor Fund Managers was delighted to win Boutique Management Group of the Year (Multiple Strategies) at the Investment Week Specialist Investment Awards 2017.
Paul Jordan was at the awards ceremony at Plaisterers' Hall in London to accept the award from BBC Breakfast presenter Louise Minchin.
All award winners were selected using a combination of quantitative and qualitative criteria, as well as independent performance data from Morningstar, FE Trustnet and Lipper, and additional analysis was conducted by a judging panel of leading fund analysts and researchers.
Lawrence Gosling, Group Editorial Director of Incisive Media (Investment Week's parent company) noted that "with 'alpha' harder to find in the last few years, there has naturally been a shift towards allocating to managers with specialist expertise in specialist and niche asset classes."
Daniel Lockyer, CIO of Fund Management, and Senior Fund Manager said "Awards such as this are a great indication of how our funds are perceived in the industry. They are also testament to the hard work and dedication the team have put in to achieve such noteworthy performance across the year."
View more news