Exeter office visit to the Disabled Sailing Association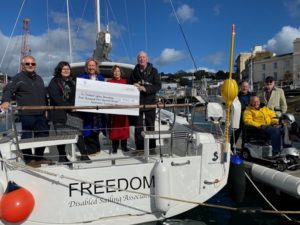 The Disabled Sailing Association (DSA) was chosen as the Hawksmoor Exeter Office Charity of the Year for 2020, and it was a rare sunny day when Marketing Manager Diane Hayman and Receptionist and Operations Assistant Stephanie Williams met several members of the charity in Torquay. Stephanie is a volunteer at the DSA, and was responsible for nominating the charity.
The DSA is run for the disabled, by the disabled, and aims wherever possible to give everyone the opportunity to enjoy the experience of sailing. The members of the charity and the Committee work tirelessly to raise funds to provide specially-adapted boats, and to train disabled members and volunteers as RYA qualified crew. Hawksmoor's donation will be spent on the latest electronic safety equipment.
The DSA's Patron, Sir Chay Blyth CBE BEM sent the following message to be read out by Peter Turner, Chairman of the DSA, as the cheque was handed over:
"Although I am unable to be with you today for the presentation of the cheque from Hawksmoor Investment Management I did want to say a few words.
Like all of you, I'm delighted that the Exeter office of Hawksmoor Investment Management has chosen the Disabled Sailing Association as their Charity of the Year 2020. Their magnificent donation will be used to purchase hi tech safety equipment which I know means a lot to our members. Our heartfelt thanks to Hawksmoor – you've helped a great cause.
I look forward to coming down to Torquay in June, meeting you all, and perhaps getting out on the boats with you.
My thanks again to Hawksmoor, and my best wishes to everyone.
Chay"
Pictured (left to right) are: Peter Turner, Chairman DSA; Torquay, Stephanie Williams; Diane Hayman; Sue Earle, DSA Management Committee Member; Dave Musgrove, founder and now President of DSA, Torquay. (DSA volunteers on pontoon).
Photo: Alec Munro
View more news