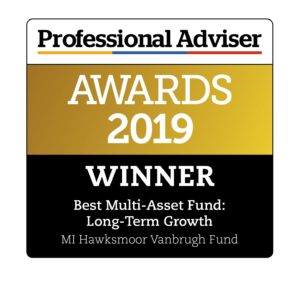 The MI Hawksmoor Vanbrugh Fund is designed to have broad appeal and to be a core long-term investment for those seeking actively managed exposure to financial markets. The primary aim of the Fund is to deliver returns, after charges, in excess of the Consumer Price Index (CPI) over the medium term (defined as rolling periods of at least 3 years).
How do we achieve this?
We aim to strike the right balance between the need to generate positive real returns and preserve capital by investing in a variety of financial assets, which can be volatile. We mitigate this volatility by ensuring a diversified portfolio of assets, each of which shares the common characteristics of a margin of safety and low intra-asset correlations.
What is the yield target?
Whilst there is no yield target, the Fund will always contain an allocation to bonds and other income-producing assets, so some income generation is likely.
What are the asset exposure parameters?
As a constituent of the Investment Association's Mixed Investment 20-60% Shares Sector, the Fund will at all times have a maximum of 60% allocated to equities and a minimum of 30% in fixed interest and cash.
How has the Fund performed since launch?

Source: FE Analytics. GBP total return, C Acc units (performance history extended where required). Past performance is not a guide to future performance. The value of an investment and any income from it can fall as well as rise. You may not get back the amount you originally invested.
The Vanbrugh Fund – rewarding long term investors
The chart below shows the percentage of times, looking back through history, that the Vanbrugh Fund's rolling 1, 3 and 5 year performance has been in the 1st (top), 2nd, 3rd or 4th (bottom) quartile relative to its sector, the IA Mixed Investment 20-60% Shares Sector. Rolling periods begin at each quarter end since Vanbrugh's launch, starting from the 31/03/2009.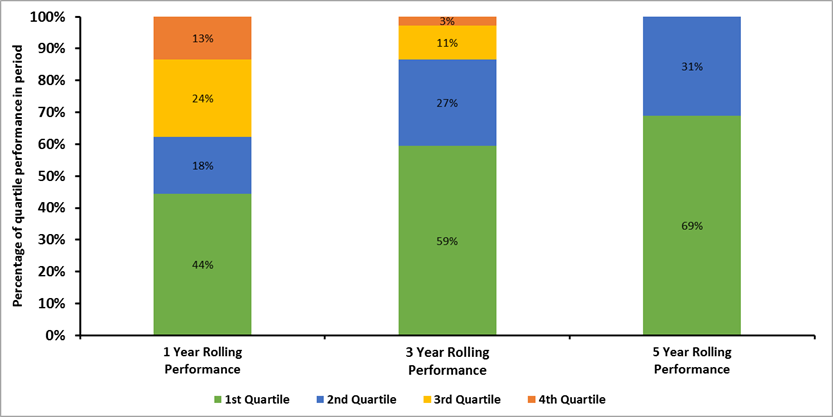 Source: FE Analytics GBP Total Return B Acc. Quarterly from 31/03/2009 to 31/03/2021. Relative to IA Mixed Investment 20-60% Shares Sector. May not sum to 100% due to rounding error.
How do I invest?
You can invest in the Vanbrugh Fund via your chosen investment platform, or you can invest directly (with a minimum investment of £5,000) by downloading and completing the Funds Application Form below.