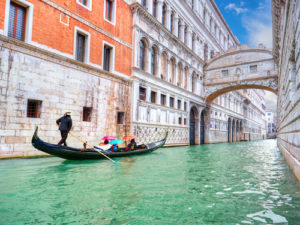 My old school magazine was delivered this weekend. If only to help pass a soggy Cornish Sunday morning, instead of putting it straight into the recycling I actually flicked through a few pages. I never knew that I was at school with Phil Howard (the really scary one from Great British Menu). Different House of course, and I am a few years older, but we overlapped. So (puffing out my chest), is this the only investment column written by someone who went to school with the Phil Howard? Don't try to say you're not impressed.
The mag had a very impressive article from the outgoing Head Boy. He is clearly a student of philosophy and is much-taken by the idea that life is not a journey, but an experience. The argument goes that a journey needs an end-point, a destination. It has an end. Life, on the other hand, is a constant evolution.
And so we come to something relevant. I was tempted this morning to try to argue that you-know-what has entered the final straight, the chequered flag in sight at the end of the world's slowest marathon. But that would be to accept that Brexit is a journey, with an end and a destination. Al contrario, tværtimod, integendeel. It is an experience, with neither start nor end.
So while we welcome last week's outbreak of cheeriness, we do not trust it. The rise in the value of alleged domestic, or value, assets was nice, verging on the pleasant. Sterling has gained a little (not a lot). To use a gratuitous homophone, the problem is that the sighs of relief are not yet matched by the size of relief.
The same is true of the US-China trade talks. These, though, should be a journey, with an agreement at the end. There is many a slip twixt cup and the lip, but it feels as if there is progress here. We all know that Trump has a stronger hand in the 2020 elections if he has something concrete to show for his four years. There is nothing concrete about the Wall, and he really does need to be able to say that he has kicked sand in the faces of the Chinese and that they have bowed to his brilliant diplomacy.
Let us ponder for a moment on the largest risers amongst big UK companies last week. Kingfisher. Hmm. Lloyds Banking Group, BT Group, Auto Trader Group, Barclays, Persimmon. Indeed. Royal Bank of Scotland, TUI, Berkeley Group, Taylor Wimpey. Would you wish to fathom a guess at the average dividend yield of these ten shooting stars? Let's not split hairs on a bit of rounding, but it is a little over 5.5%. Seven of them have forward p/e ratios in single digits (Auto Trader's 24x rather spoils the overall picture).
If we drop down a notch on the size scale, we see Pendragon, Countrywide, Clarkson, Grafton, Capita, Travis Perkins. Rathbone Brothers, even. Goodness gracious. Could it be that that this is March 2009 all over again?
These are cheap stocks. Probably really cheap. But the market is not being indiscriminate. Imperial Brands – one of the most widely held stocks in 'value' funds – barely flinched. Its latest profit warning has ensured that the share price is still down 15% over the past month. Royal Dutch Shell was down last week, as was BP.
The market is not showing that it is on the threshold of a massive shift away from growth and quality to value. What we saw was a reassessment of the specific risk of No Deal. Yet again, it has shown that this interminable process matters.
Half-way around the world, we are keeping our eyes on Turkey, Syria and Kurdistan. Trump's wish to wind down the opportunities for American casualties is well-known, and the Turkish response was completely predictable. Now Trump is panicking, despite his insistence that the Kurds didn't help with D-Day. Let us leave aside the rights and wrongs (there are no rights), the two issues for this column are that United States has no coherent foreign policy, and that wherever the US vacates, Russia will surely go. There are few more geographically important countries than Turkey. It is divided from Russia only by Georgia. It would give Moscow what it desires more than anything: a warm water port. But Russia has one ally – Syria – pitched against the one that it really wants to woo – Turkey. And in the midst of all this, we face the potential re-agglomeration of the Islamic State. My oh my.
Well done to all who spotted last week's list of misnomers. Today, who's sleuthing career solved seven poisonings, five stranglings, five shootings, three head-bashings, but only one fire and a single fall?
Chart of the Week:
Lloyds Banking Group, past 5 years (weekly).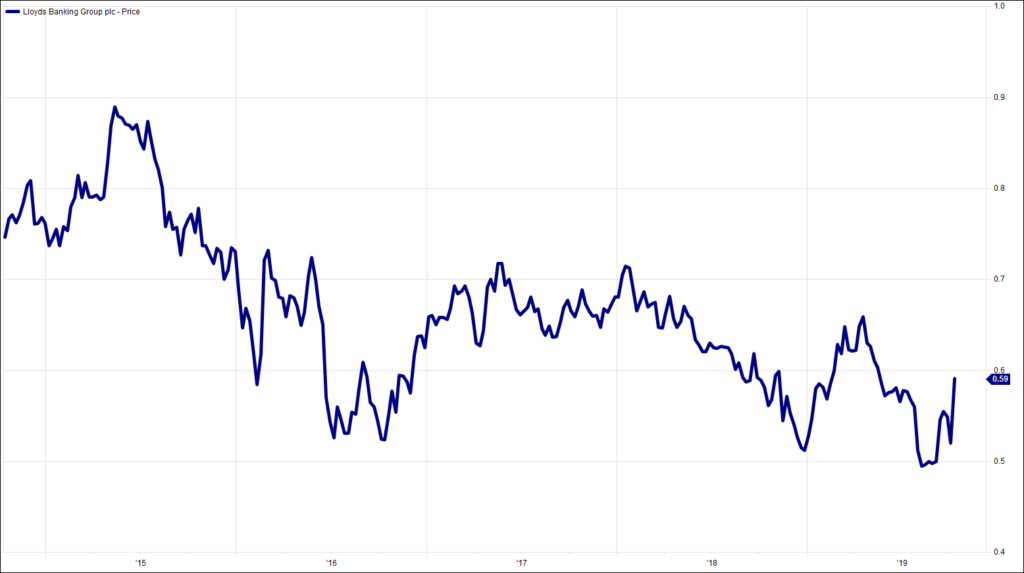 HA804/231
All charts and data sourced from FactSet
Jim Wood-Smith – CIO Private Clients & Head of Research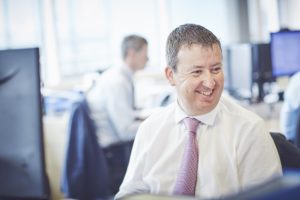 Hawksmoor Investment Management Limited is authorised and regulated by the Financial Conduct Authority (www.fca.org.uk) with its registered office at 2nd Floor Stratus House, Emperor Way, Exeter Business Park, Exeter, Devon EX1 3QS. This document does not constitute an offer or invitation to any person in respect of the securities or funds described, nor should its content be interpreted as investment or tax advice for which you should consult your independent financial adviser and or accountant. The information and opinions it contains have been compiled or arrived at from sources believed to be reliable at the time and are given in good faith, but no representation is made as to their accuracy, completeness or correctness. The editorial content is the personal opinion of Jim Wood-Smith, CIO Private Clients and Head of Research. Other opinions expressed in this document, whether in general or both on the performance of individual securities and in a wider economic context, represent the views of Hawksmoor at the time of preparation and may be subject to change. Past performance is not a guide to future performance. The value of an investment and any income from it can fall as well as rise as a result of market and currency fluctuations. You may not get back the amount you originally invested. Currency exchange rates may affect the value of investments.