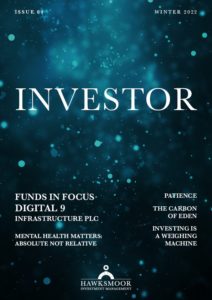 Investor is our quarterly newsletter for private clients, and includes a range of articles including market updates, investment topics and features about what we do at Hawksmoor.
In this Winter edition of Investor, our CIO Private Clients & Head of Research Jim Wood-Smith offers his thoughts on 2021, Assistant Fund Manager Dan Cartridge looks at digital infrastructure in our 'funds in focus' feature, and Senior Fund Analyst Daniel Lockyer writes about the importance of mental health awareness in the workplace and our industry.
We hope you enjoy the newsletter and that it gives you a flavour of some of the broader elements that go into the business of managing your investments. As always if you have any questions or suggestions for future articles, please contact your Investment Manager.
You can read the full issue here.