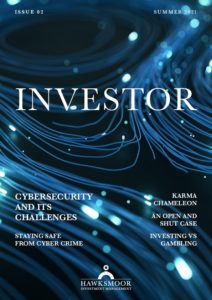 Investor is our new quarterly newsletter for private clients, and includes a range of articles including market updates, investment topics and features about what we do at Hawksmoor.
This Summer edition includes a great market update from our Chief Investment Officer, CIO Private Clients & Head of Research Jim Wood-Smith ("Karma Chameleon"), an interesting fund feature ("An Open and Shut Case") from Fund Manager Ben Mackie and an in-depth article by Investment Analyst Ben Luck about the rapidly evolving cybersecurity industry.
There are other features too, such as an important piece on staying safe from cyber crime, a 'Next Gen' article explaining how investing your money is very different from gambling, and a client asks us about the difference between unit trusts and investment trusts.
You can read the full issue here.