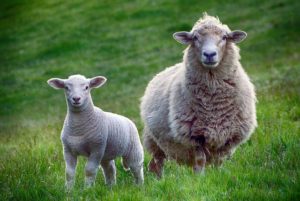 Disco buffs will be more than familiar with the ten minutes and fifty seconds of 'Disco Inferno' that wraps up the soundtrack to Saturday Night Fever. For those now on a learning curve, around half the song is the rhythmic repetition of the line "Just can't stop, when my spark gets hot". Trust me, it's better than it looks on paper. A lot better.
My point, of course, is that the S&P's spark is so hot that it just can't stop. 3,000 is but a memory of last week. As we seem to say every week, these are heady times.
The Darroch emails have made compulsive reading. Yes, it is always fun to show one's indignation at whatever President Trump has done; but our soon to be ex-Ambassador is shining lights into places that ought to matter, even to we mere investors.
Trump, so it is alleged, scrapped the deal on Iranian nuclear restrictions to spite his predecessor. That is quite silly, as well as vindictive. It is even sillier, Darroch says, not to have a plan for what to do thereafter.
I would argue that the whole Iran thing has since been hijacked by others around Trump, who have seen the opportunity to push for regime change. This bit is also important: the United States is currently uniquely aggressive in the pursuit of its self-interest.
I come back, though, to the randomness, vindictiveness and irrationality of the Trump administration that Sir Kim reports. This is the situation that Prime Minister Boris is going to have to deal with. My worry is that PMB is likely to be too keen to allow chlorinated American chickens into the UK before he has sorted out what will happen to the near 50% of our lamb exports that will no longer be able to go to France.
You may not instantly recognize the name Woody Johnson, but he is not related to our next prime minister (nor to your author). Mr Johnson (Woody) owns, with his brother, the New York Jets and is Ambassador of the United States to the Court of St James's.
He is also quite a fan of chlorinated chicken, imports of which have been banned by the EU since 1997. Mr Johnson has also been at some pains to advocate the merits of this banned practice, presumably in anticipation of Mr Trump telling Boris that he has to take these chickens as part of any deal.
Being proper British chaps, we have not taken umbrage and sent Mr Johnson home with a flea in his ear for proposing such illegalities. Indeed not, we give him extensive newspaper coverage so that readers can come to a full, fair and informed view of the arguments.
So what of the lamb situation? Each year we export about 100,000 tonnes of 'sheep meat', around a third of our total production. The value of these exports is £300m (to which we can add £7m of offal and £60m of fleeces). Where do we export to? Our closest neighbour, of course. 95% of our lamb exports go to the EU, of which about half is taken by France.
So what happens now? Or on November 1st, at least? The EU tariff on sheep meat is 12.8%, plus a fixed charge of between €902 and €3118 per tonne, dependent on the cut. This can add 50% to prices.
The competition comes predominantly from New Zealand. The Cricket World Cup runners up have an annual tariff-free quota of 228,254 tonnes that they can export to the EU. They use around three-quarters of this, meaning that they can send approximately 60,000 tonnes more than at present to plug the gap left by the UK's potentially expensive alternative. (All sheep meat data source: britishmeatindustry.org).
Mr Johnson has said that we are leaving Europe by the end of October, do or die. He has an awful lot of work to do if he is not to oversee a very significant shift of wealth from the United Kingdom to the United States. He has, as they say, his work cut out.
Finally this week, something much more mundane. The PFS has caused considerable consternation with its latest comments on the 'agent as client' model. We are happy to remind everyone that Hawksmoor's Discretionary Portfolio Management Service operates on a 'client as client' basis.
We were with the Banana Splits last week, and Bingo was missing. Today, who was the Australian Cultural Attaché to the Court of St James's?
Chart of the Week:
Brazil Bovespa Index, past 5 years.  Another hot spark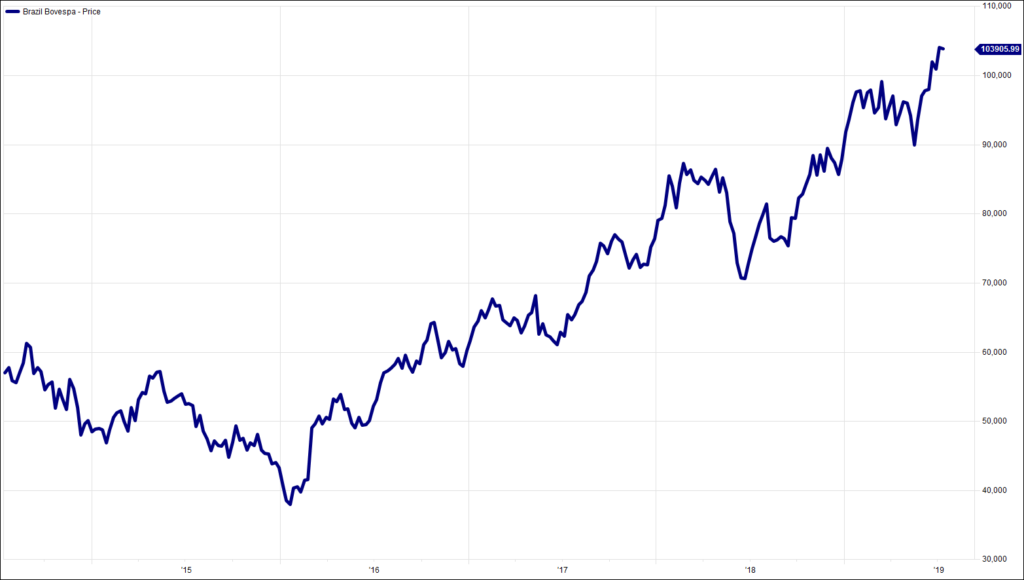 HA804/219
All charts and data sourced from FactSet
Jim Wood-Smith – CIO Private Clients & Head of Research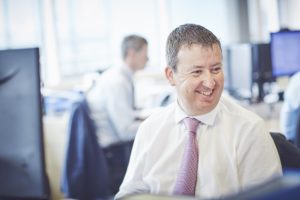 Hawksmoor Investment Management Limited is authorised and regulated by the Financial Conduct Authority (www.fca.org.uk) with its registered office at 2nd Floor Stratus House, Emperor Way, Exeter Business Park, Exeter, Devon EX1 3QS. This document does not constitute an offer or invitation to any person in respect of the securities or funds described, nor should its content be interpreted as investment or tax advice for which you should consult your independent financial adviser and or accountant. The information and opinions it contains have been compiled or arrived at from sources believed to be reliable at the time and are given in good faith, but no representation is made as to their accuracy, completeness or correctness. The editorial content is the personal opinion of Jim Wood-Smith, CIO Private Clients and Head of Research. Other opinions expressed in this document, whether in general or both on the performance of individual securities and in a wider economic context, represent the views of Hawksmoor at the time of preparation and may be subject to change. Past performance is not a guide to future performance. The value of an investment and any income from it can fall as well as rise as a result of market and currency fluctuations. You may not get back the amount you originally invested. Currency exchange rates may affect the value of investments.