Vanbrugh Fund wins Professional Adviser award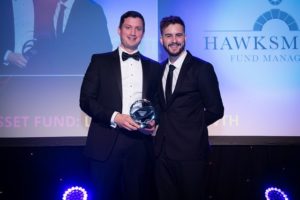 Hawksmoor Fund Managers picked up another award at the 14th Professional Adviser Awards.
The Vanbrugh Fund was crowned the winner in the 'Best Multi-Asset Fund: Long-Term Growth' category at the event, which recognises "the best in multi-asset investing."
In a tough shortlist of finalists, the Vanbrugh Fund beat Fidelity, Premier and Quilter to the title at a black tie event in London. Ben Conway accepted the trophy on behalf of the Fund Managers team from comedian and impressionist Luke Kempner.
Co-head of Fund Management Daniel Lockyer said:
"We are delighted that the strong long-term performance of the Vanbrugh Fund has been acknowledged through this award. The Fund is celebrating its 10th Anniversary later this month, so it is wonderful recognition that builds on the 10 year track record of delivering strong multi-asset real-returns."
View more news