Taunton office visit to Young Somerset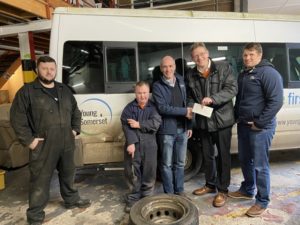 Senior Investment Manager Greg Sellers had the great pleasure of meeting members of the team at Young Somerset – the Hawksmoor Taunton Office's 2020 Charity of the Year.
Young Somerset is a youth work charity that aims to work with young people, encouraging them to take responsibility for themselves and become actively involved in shaping the communities in which they live. The organisation works to deliver projects and programmes through three strands of work: Open Access Youth Work; Skills Development; and Social Action.
Greg met the team at the charity's Light Engineering Workshop which runs programmes focused on motor vehicle repair and engineering projects, and provides a place for young people to learn new skills and practice them in a real working environment. It also helps to prepare them for employment.
Pictured (left to right) are Workshop Youth Worker Rich Hedger, a young person from the Skills Development Programme, Young Somerset Chief Executive Nik Harwood, Hawksmoor's Greg Sellers and lead Youth Worker Chris Bucksey.
View more news