Surge in demand for AIM Portfolios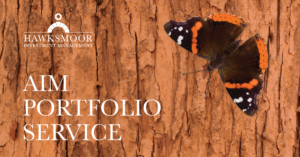 We have been seeing a surge in demand from financial planners for our award-winning AIM Portfolio Service – with assets under management increasing by 38.2% in the first 6 months of this year.
Our Head of AIM Services, Ian Woolley explained: "AIM has had a tremendous year. Its quick recovery from the impact of COVID-19 shows how this is now a matured market working well for both company and investor. The UK has some fantastic smaller companies on AIM with exciting growth prospects. We're delighted to report record inflows and top quartile performance over 3-years."
Neal Smith, our Head of Sales has suggested that "COVID-19 has brought the issue of estate planning closer to home for many families. For the right client, diversified portfolios of higher-quality AIM stocks are a great estate planning tool for financial planners and we're seeing a huge and sustained rise in demand for Hawksmoor's AIM Service this year."
In response to the demand, we have instigated regular monthly live webinars specifically for the financial planning community, to illustrate the risks of AIM Portfolios, and to explain how our in-house AIM team of 5 investment professionals takes a rigorous and disciplined approach to selecting suitable AIM investments. The Service's low minimum investment threshold of £30,000, with no initial fees, has also proved extremely popular.
According to an independent report by MI Capital Research Ltd (MICAP), the performance of our AIM Portfolios ranks in the first quartile of a sample of 22 AIM Business Relief services over a three-year period with "clear outperformance on a cumulative basis" against its relevant benchmarks since its inception in January 2016.
We are planning to run more of our live AIM webinars from 11.00am until 12noon on:
Thursday 15th July
Thursday 12th August
Thursday 16th September
If you are a financial planner or investment professional and you would like to attend, please contact Business Development Manager Shane Weston on email or on 07436 035224.
View more news