Sarah Soar takes up the reins at Hawksmoor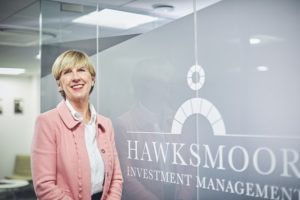 Hawksmoor Investment Management has welcomed Sarah Soar as the Company's new Chief Executive (designate). She takes over from John Crowley, Hawksmoor's Founder, principal shareholder and Chief Executive since the Company's launch in 2008. John will continue as a director of the Company.
Sarah joins Hawksmoor from JM Finn where she was Head of Investment Management. Prior to that she held a number of executive roles at Brewin Dolphin and was the first woman to be appointed to their main board. In addition, she sits on the board of PIMFA and is Chair of the Nomination Committee. She also sits on the Council of the Institute of Directors (IOD) and their Nomination Committee and is Chair of the IOD Governance Review Group.
Sarah's 35 years' experience in wealth management will be invaluable in leading Hawksmoor into the next phase of its development, and towards the company's ambitious goals.
Sarah said she was delighted to join Hawksmoor at such an exciting stage of its development. "The company embodies everything that I feel passionate about in terms of providing a high quality service for our clients. I was particularly attracted to the strong culture of the organisation, which is at the core of everything that we do. I am currently looking at all opportunities for the firm, with an emphasis on diversity and inclusion both in relation to our staff and our clients." She added, "I am keen to explore all investment opportunities for our current and future generation investors with a particular focus on sustainable investing."
Hawksmoor's Chairman James Brent said "We are delighted that Sarah has joined us at this important time in the Group's development. Her focus on delivering to our clients, both current and prospective, and her experience of building high quality businesses sits well with Hawksmoor's existing culture and ambition."
View more news