Market Update 24th April 2023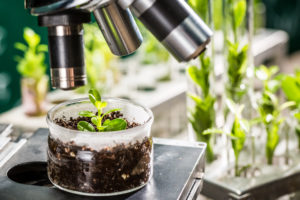 Tulips and trees
Some of our regular readers will know that away from the keyboard I still hack around the golf course from time to time, as well as fighting a battle against the Cornish countryside in my garden. I have occasionally advocated Monty Don for prime minister, although Alan Titchmarsh has his merits as well. I am sure that neither would permit a bully in their top team, but that is something probably best left for another day.
I am going to resist the temptation to start listing the analogies of gardening and investing, but there is one aspect that I do wish to dwell on for a moment. Time. Nature operates on multifarious timescales. The great gardens and gardeners understood this. The structures of the gardens were planted not on the basis of what will happen in the next three months, or year, or even five years. They were planted with an understanding that they could only be properly appreciated by distant generations. A sapling beech tree that leafed late one spring was not deemed to be an 'underperformer', or 'out of fashion', or 'likely to miss foliage forecasts'. That criticism should be reserved for the spring bulbs, or the summer bedding plants. These can indeed 'underperform' and 'fall short of expectations'.
My proposition is that the world of investment too frequently fails to differentiate between the copper beeches, the roses, the tulips and the impatiens. Portfolios need their copper beeches, their magnolias, their rhododendrons and their redwoods. Just as they also need their narcissi, begonias and bizzy lizzies. The two must be looked at differently. A great business does not stop being so because it has a bad quarter, or even a tough year. It happens.  To use a horrible double negative, it does not mean that it will not be a superb investment for decades to come. We should not look at, and judge, everything through the same microscope.
The world of investment is infatuated with the short-term. The three-monthly cycle is king. Companies report their sales and profits quarterly. Investment managers report to their clients just as frequently. The end result is (I might argue) a confusion born of information-overload, an unfortunate jumbling up of woods and trees. Economic data tends to be published monthly. In some cases even this is currently deemed to be dangerously tardy, so that we even have mid-month estimates. One might ask why? Does this make anyone a better portfolio manager? What benefit is it to our clients that, for example, the Eurozone publishes its inflation rate twice a month?
The questions are not entirely rhetorical. The daily weather forecast can tell us if there is a late frost and whether we should put some protection over the tender plants. There are parts of portfolios that will ebb and flow with the noise. But this should not distract from the qualities of its bedrocks.
The quarterly corporate reporting season hits full speed this week. Of the companies that we follow the most closely, 34 will have updated on their quarters before the week is through. Our challenge is to sift through the deluge. The markets, in the short-term, will fret over every penny and cent of earnings. Together, they will also start to give us a better picture of which way the winds are blowing. Are companies yet feeling the effects of higher interest rates? Are cost pressures (or inflation) starting to ease? Are Chinese markets really re-opening?
Last week we saw UK wages growing slightly faster than expected, and inflation falling more slowly. To repeat the phrase from the third paragraph: "it happens". Pay increases may be well behind the current rate of inflation, but they are also well ahead of where it is expected to be in a year's time. Next month's inflation rate is much more important. April 2022 saw the monthly rate increase by a mammoth 2.5%, with the calculations including the impact of the change in the energy price cap. That will now drop out of the spreadsheets and next month's update should be reporting a much calmer, and cheerier, scenario.

Jim Wood-Smith – Market Commentator and Head of Climate Transition
Hawksmoor Investment Management Limited is authorised and regulated by the Financial Conduct Authority (www.fca.org.uk) with its registered office at 2nd Floor Stratus House, Emperor Way, Exeter Business Park, Exeter, Devon EX1 3QS. This document does not constitute an offer or invitation to any person in respect of the securities or funds described, nor should its content be interpreted as investment or tax advice for which you should consult your independent financial adviser and or accountant. The information and opinions it contains have been compiled or arrived at from sources believed to be reliable at the time and are given in good faith, but no representation is made as to their accuracy, completeness or correctness. The editorial content is the personal opinion of Jim Wood-Smith, Market Commentator and Head of Climate Transition. Other opinions expressed in this document, whether in general or both on the performance of individual securities and in a wider economic context, represent the views of Hawksmoor at the time of preparation and may be subject to change. Past performance is not a guide to future performance. The value of an investment and any income from it can fall as well as rise as a result of market and currency fluctuations. You may not get back the amount you originally invested. Currency exchange rates may affect the value of investments.
View more news