Leadership, perseverance and diversity in financial services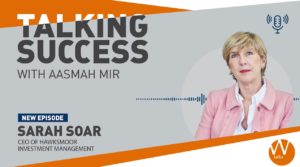 We are delighted that our CEO, Sarah Soar was invited to take part in the 'Talking Success' podcast series with Aasmah Mir. Sarah discusses her path into the wealth management industry, how she focuses on supporting her people to work at their best, and how financial services businesses across the board still need to address gender and ethnic diversity deficits. The podcast is available to download on all major podcast platforms, or can be listened to here.
'Talking Success' is a podcast series in which award-winning broadcaster and journalist Aasmah Mir talks to a diverse group of business pioneers about the crucial moments of their careers and what they have learnt from their experiences. From technology innovators to industry leaders, the series dissects the road to success and uncovers fascinating insights and memorable anecdotes.
View more news