HFM are finalists in the IW Specialist Investment Awards 2018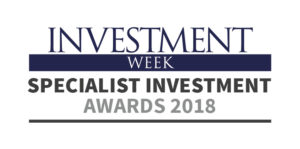 Congratulations to Hawksmoor Fund Managers who have been named as finalists in the Investment Week Specialist Investment Awards – Multi-Asset Group of the Year.
The team won the 'Boutique Management Group of the Year' category at these awards last year, but the 'Multi-Asset Group of the Year' category will pit them against some much larger players.
The awards are judged using a combination of quantitative and qualitative measures, with independent performance data from Morningstar, FE and Thomson Reuters Lipper, and analysis by a judging panel of leading fund analysts and researchers.
The other finalists in the category are:
Architas
BMO Global Asset Management
Legal & General Investment Management
Momentum Global Investment Management
Premier Asset Management
Seneca Investment Managers
State Street Global Advisors – Investment Solutions Group (ISG)
The Awards ceremony will be held in London at Plaisterers' Hall on Friday 19th October.
More information about the Awards can be found on the Investment Week website.
View more news