Hawksmoor and Exeter City Futures – creating a sustainable future for Exeter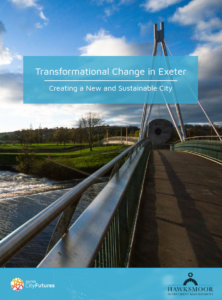 Hawksmoor Investment Management's Jim Wood-Smith and Exeter City Futures held a joint seminar to discuss the challenges of creating a sustainable future for Exeter.
The seminar included the following speakers, from sectors including law, real estate, and finance – all passionate about their field of expertise and all with a view on how to help shape the future of Exeter as a sustainable and prosperous city:
Karime Hassan – Chief Executive and Growth Director, Exeter City Council
Glenn Woodcock – Director, Exeter City Futures
Jason Eis – Executive Director, Vivid Economics
Jonathan Kitchin – Partner, Michelmores
Mark Edworthy – Group Managing Director, Burrington Estates
Roli Martin – Head of Strategic Partnerships, Exeter City Futures
Seminar attendees included the City Council as well as public sector, planning, professional services, developer and infrastructure organisations in Exeter. The event canvassed ideas and solutions for transformational change in the city over the next two decades and discussed potential reforms to financing, planning and delivery methods that could be employed to achieve the shared aspirations for the city.
Jim gave a presentation on the topic 'How sustainability is changing Corporate & Investor Behaviour,' and also wrote the Foreword to the working paper.
View more news