Distribution Fund wins Morningstar award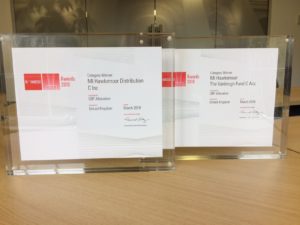 We are extremely proud that Hawksmoor's Distribution Fund has been announced as a winner in the Morningstar UK Fund Awards 2019 – in the 'Best GBP Allocation Fund' category.
According to Morningstar UK, the awards are given to the funds and fund groups that "added the most value for investors within the context of their relevant peer group in the previous year."
Morningstar's Jonathan Miller (Director, Manager Research Ratings UK) said, "The primary purpose of these quantitatively driven Morningstar awards is to recognise the funds and fund houses shown to have the ability to earn strong long-term returns without undue risk. We are strong advocates of applying patience as a key element of a successful investment strategy."
It is particularly satisfying for the Distribution Fund to win this award – as last year's winner in the same category was our Vanbrugh Fund!
You can read more about the Morningstar 2019 UK Fund Awards here.
View more news