AIM Portfolio Service a finalist in Growth Investor Awards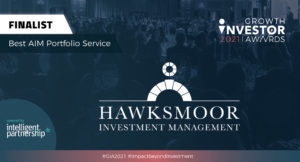 We are delighted that our AIM Portfolio Service has been chosen as a finalist in the Best AIM Portfolio Service category of the 2021 Growth Investor Awards, hosted by Intelligent Partnership.
The Awards celebrate "the companies and individuals who go above and beyond to support the UK's growing businesses, and in doing so create jobs, boost economic growth and support innovation."
For the 'Best AIM Portfolio Service' category the judges are looking for "success across investee selection, portfolio performance, investment volume and inflows, efforts to champion the AIM market, customer feedback, and overall business impact."
The winner will be announced at the Awards ceremony on 4th November in London. You can find out more about the awards here.
View more news