Autumn 2019 Roadshows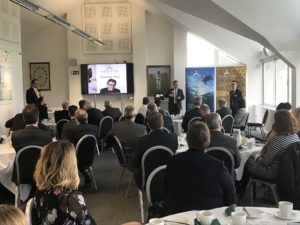 We would be delighted if you could attend one of our October 2019 Roadshows entitled "On the threshold."
Full details of venues/dates/timings etc. are below.
Our speakers,
Jim Wood-Smith, Chief Investment Officer
Ian Woolley CFA, Senior Investment Analyst & AIM Portfolio Manager
James Clark, Senior Fund Analyst
will address how 2019 is challenging conventional investment thinking like no other year. A number of long-accepted wisdoms are under intense scrutiny and our speakers will explore the possibility that we are on the threshold of a new and more dangerous era.
Our talks will include:
deflation and inflation
the conundrum of full employment and collapsing bond yields
the threats and opportunities of a climatic tipping point and decarbonization
trade wars
Brexit
populist politics
technological obsolescence
If you haven't already responded, please email Jill Gill on [email protected]
Date
Venue
Time
Format on Arrival
Thursday 3rd October

 

Norwich City FC

Carrow Road,

Norwich

8.00am for 8.15am start
Tea/Coffee/Bacon rolls on arrival followed by presentation
Thursday 3rd October
Colchester United

Colchester,

Essex

1.00pm for 1.15pm start
Refreshments on arrival. Presentation over buffet lunch
Friday 4th October
Hawksmoor Restaurant

10 Basinghall St,

London EC2V 5BQ

8.30am for 9.00am start
Breakfast on arrival followed by presentation
Tuesday 8th October
Somerset CCC

Taunton TA1 1JT

8.00am for 8.30am start
Breakfast on arrival followed by presentation
Wednesday 9th October
Woods Restaurant

Bath

11.45am for 12 Noon start
Refreshments on arrival. Presentation over buffet lunch
Thursday 10th October
AFC Bournemouth

Vitality Stadium,

Bournemouth

12 Noon for 12.15pm start
Refreshments on arrival. Presentation over buffet lunch
Thursday 10th October
The Bell

Brook, Nr. Lyndhurst

5.00pm for 5.30pm start
Refreshments on arrival. Presentation over buffet
Tuesday 15th October
Boringdon Hall

Plymouth

8.00am for 8.15am start
Tea/Coffee/Bacon rolls on arrival followed by presentation
Tuesday 15th October
The Alverton

Truro

12.45pm for 1.00pm start
Refreshments on arrival. Presentation over buffet lunch
Wednesday 16th October
The Royal Albert Memorial Museum

Queen Street

Exeter

8.00am for 8.30am start
Tea/Coffee/Bacon rolls on arrival followed by presentation
View more events