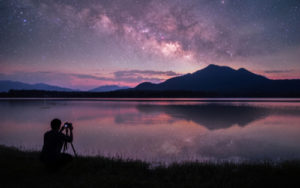 We were rather smugly pleased with last week's puns about sighs of relief. No matter that no one else seemed to notice. And so this week we are sticking with the size theme, and purporting that in the closeted investment world, size is terribly important.
Doubtless you will have seen that Panorama this evening is running an exposé on the fund management industry. The title is "Can You Trust the Billion Pound Investors?"; this features prominently on the website, alongside a picture of a grinning Neil Woodford.
The show already has a victim. Mark Denning, of Capital Group, is reported to have resigned after seeing allegations made in the programme. This could all get rather unpleasant.
Ten and a half years of a bull market in equities and bonds will have begat some issues. It is almost twenty years since Warren Buffet penned his famous line that "nothing sedates rationality like large doses of effortless money". Why do those already generationally rich feel the need to be so cavalier in the pursuit of more?
During our latest round of roadshows, James Clark spoke eloquently about some of the risks of investing with so-called 'star' fund managers. It is a fair rule of thumb that anyone believing themselves to be a 'star', or allowing themselves to be promoted as such, should be booted from one's portfolio.
By the time that a fund manager has been accorded the stellar epithet, he or she will be running too much money. The cliché that 'elephants can't run' matters. The larger a fund, the more it must start to replicate the performance of its index. The 'star' fund manager will most likely be milking fees the size of a planet merely by sitting on a gargantuan and averagely performing fund. Some would argue that the investor could achieve much the same thing, with lower cost and lower risk, by holding a passive.
Companies make the same mistakes over and over again. One's best salesman should never be Head of Sales, they should be out selling. The best fund managers should not be Managing Director, or Chief Executive. It is a massive burden to be a senior manager of a financially regulated business (obviously preaching to the converted here): fund managers should manage funds, not companies.
Decisions and opinions need to be challenged. Star fund managers, in our view, are much less likely to be subject to the necessary internal scrutinies. How many would say 'excuse me, star fund manager, I think you have got this stock wrong'?
We think it is only common sense that one should seek to invest with those wanting to make their names. We want to invest with those who believe that they have a point to prove, those who are hungry for performance, rather than feasting on the fat of the past. There are plenty of these managers, the ones with whom investors at least have the chance of outperformance.
I have thus far refrained from venting any of my spleen about those who I hold truly at fault for the losses, pain and misery inflicted on so many investors in Woodford. It is best that I do, but suffice to say the role of Best Buy lists in this is, in my view, one of this industry's darkest moments. I want to go on, but it is best that we move on.
Sterling is $1.30 and UK domestic stocks are flying. Hurrah. I should clarify that a little: not all domestic stocks are, but enough so as to think that any deal, no matter if it is quarter, half or fully baked, will send prices even further up. That is the whole point, as we have tried to argue for so long. Any deal pushes the UK into a transition period, the ports stay open, the shelves stay stocked and the lights will turn on.
Beyond that, deal or no deal, the real negotiation starts. The details, the nuts and bolts, the nitty gritty. And presumably at some stage someone will remember that the service sector accounts for around 80% of our economy and ought to get a look in. In the meantime, we have at least another week of glitter-ball quality flouncing.
Finally, a quick advert and double thanks to Investment Week. Our AIM Portfolio Service is a finalist in this year's 'Best AIM IHT Portfolio Service', whilst we are also a finalist in the 'Best Sustainable WM/DFM Group' awards. We are chuffed to bits.
Last week I think I won with Miss Marple's CV. Today: The Heat of the Moment, Ventura Highway, the Final Countdown, Men at Work and a hit by a band named after a cairn terrier called Terry – what is the link?
Chart of the Week:
Imperial Brands, past 5 years. Not every value stock is rising.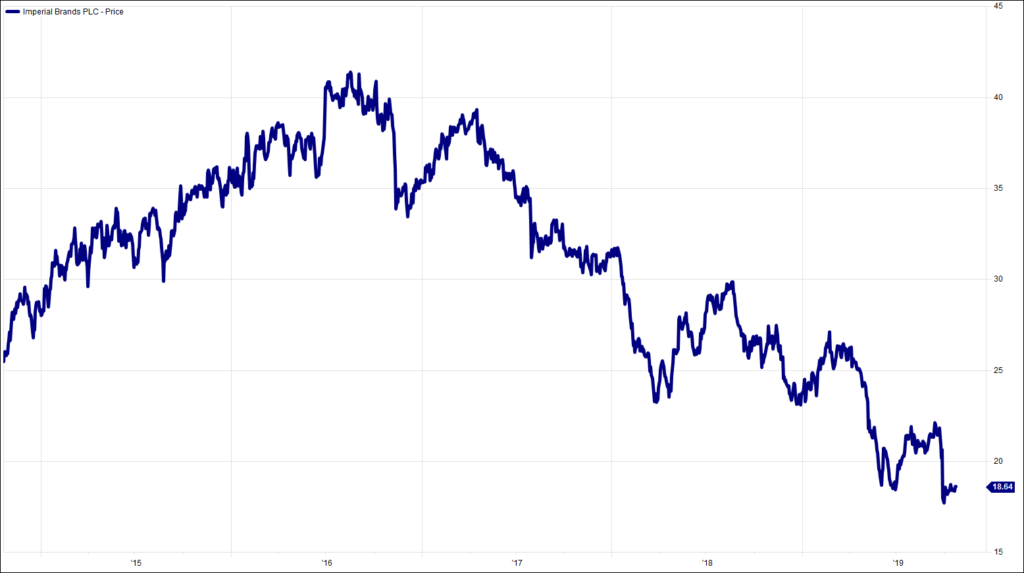 HA804/232
All charts and data sourced from FactSet
Jim Wood-Smith – CIO Private Clients & Head of Research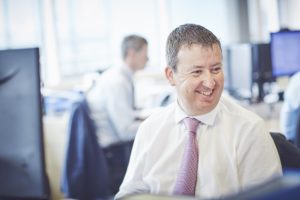 Hawksmoor Investment Management Limited is authorised and regulated by the Financial Conduct Authority (www.fca.org.uk) with its registered office at 2nd Floor Stratus House, Emperor Way, Exeter Business Park, Exeter, Devon EX1 3QS. This document does not constitute an offer or invitation to any person in respect of the securities or funds described, nor should its content be interpreted as investment or tax advice for which you should consult your independent financial adviser and or accountant. The information and opinions it contains have been compiled or arrived at from sources believed to be reliable at the time and are given in good faith, but no representation is made as to their accuracy, completeness or correctness. The editorial content is the personal opinion of Jim Wood-Smith, CIO Private Clients and Head of Research. Other opinions expressed in this document, whether in general or both on the performance of individual securities and in a wider economic context, represent the views of Hawksmoor at the time of preparation and may be subject to change. Past performance is not a guide to future performance. The value of an investment and any income from it can fall as well as rise as a result of market and currency fluctuations. You may not get back the amount you originally invested. Currency exchange rates may affect the value of investments.